CR 30-X

Compact, tabletop digitizer for computed radiography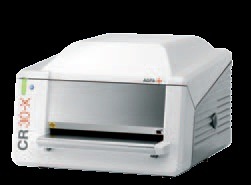 The CR 30-X digitizer for computed radiography (CR) is a compact, tabletop digitizer for decentralized CR environments. It combines high image quality with high throughput. Easy to install, use and maintain, it provides seamless integration, from X-ray exposure to print or softcopy.

Using dedicated cassettes that are inserted horizontally, the CR 30-X requires minimal space and easily integrates in vans, trucks and other mobile facilities, or other places where space is an issue.

CR 30-X offers an ideal solution for private and decentralized CR environments, including decentralized hospital departments, orthopaedics, chiropractics, military and veterinary applications.

Can be used with following products and services

- CR MD4.0T
- MUSICA 2
- NX
- SE
- DRYSTAR 5300
- DRYSTAR 5302

Suitable for following market segments

The CR 30-X offers an ideal solution for private and decentralized CR environments including:Decentralized hospital department ChiropracticsOrthopedicsMilitaryVeterinary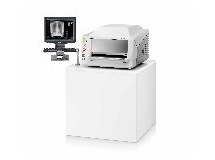 Specifications:

Digitizer type
Single cassette feed
Throughput:
35 x 43 cm (14 x 17") = approx. 60 plates/hour
35 x 35 cm (14 x 14") = approx. 60 plates/hour
24 x 30 cm (9.5 x 12") = approx. 71 plates/hour
18 x 24 cm (7 x 9.5") = approx. 76 plates/hour
15 x 30 cm (6 x 12") = approx. 82 plates/hour

Display
LED Status Indicator
Status and error messages on external PC monitor

Grayscale resolution
Dimensions and weight
Power


Minimum requirements
Environmental conditions
Temperature: 15-30°C (59 - 86°F)
Environmental effects
Heat dissipation: standby 120 W, max. 320 W
Noise level: max. 65 dB (A)

Rate of change of temperature: 0.5°C/minute (0.9°F)
Magnetic fields: max. 3.8 μT in conformance with EN 61000-4-8: level 2
Humidity: 15-80% RH

NX
CR MD 4.0 General Plate
CR MD 4.0T General Cassette 100 V/60 Hz (Japan), standby 120 W, max. 320 W, 15A fuse
120 V/60 Hz (USA), standby 120 W, max. 320 W, 15A fuse
220 -240 V/50-60 Hz, standby 120 W, max. 320 W, 16A fuse

Weight: approx. 80 kg (176.37 lbs)
Depth including input tray: 769 mm (30.3")
W x D x H: 693 x 701 x 464 mm (27.2 x 27.6 x 18.2")

Output to processor: 16 bits/pixel
Data acquisition: 20 bits/pixel


SAFETY

Approvals
UL, cUL, CE

Transport details
Temperature: -25 to +55°C (-4 to 131°F),
-25°C for max. 72 hours, +55°C for max. 96 hours
Humidity: 5-95% RH

Features:

High image quality and throughput

The CR 30-X scans at a spatial resolution of 10 pixel/mm, then processes the image using MUSICA² - Agfa HealthCare's patented, market-leading intelligent image processing software. By scanning the phosphor plate at the full width of 43 cm, the CR 30-X provides both high quality and high throughput.

The CR 30-X supports all common cassette formats.

Low total cost of ownership

Installing the CR 30-X digitizer can be achieved in a single day. Its special LED technology in the erasure unit keeps the heat output and the power requirements lower, so that standard electrical outlets are sufficient. The lack of preliminary electrical work means the set-up cost is lower. And with its modular, component-based design, the CR 30-X digitizer offers faster, easier and more cost-effective maintenance.

Facilitates convenient and fast workflow

The CR 30-X works in conjunction with Agfa HealthCare's NX - the CR's image identification and quality control workstation designed to enable users to complete effortlessly, and with minimal training, a complete digital X-ray exposure. In addition, the CR 30-X uses MUSICA intelligent image processing software to automatically optimize the final image quality without the need for human intervention.

Designed to enable a seamlessly integrated digital workflow, the CR 30-X uses DICOM protocols for all steps in the digital workflow.

The CR 30-X can be used with following Agfa HealthCare products and services:CR MD 4.0TMUSICA 2NXSEDRYSTAR 5300DRYSTAR 5302


NX™

An exceptional tool for improved radiography workflow and efficiency.

NX is the radiographer's image identification and quality control tool. It has an intuitive interface on a simple touch screen that offers complete ease of use at the point-of-care.

Agfa's image processing ensures less time adjusting for faster image delivery to the radiologist. And NX communicates seamlessly with the hospitals PACS, RIS and HIS systems for improved interoperability.

The hybrid touch screen/mouse with intuitive interface for efficient workflow.

The most frequent tasks are accessed quickly and easily on a touch screen, while a click of the mouse calls up an array of precision tools. With the intuitive interface, only minimal training is needed to work effectively on NX.

Advanced MUSICA image processing tool – ensures excellent image quality.

Agfa's image processing ensures less time adjusting for faster image delivery to the radiologist.

NX is DICOM compliant and in accordance with IHE guidelines