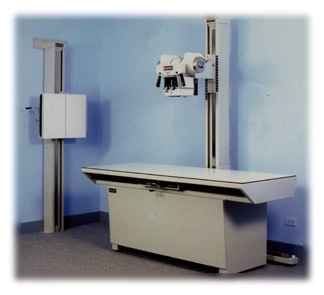 • This ruggedly constructed table will consistently support patient weights up to 350 pounds, making it ideal for busy clinics with demanding caseloads. Heavy-duty, all-steel construction and an extra-long pedestal create a durable table that will last for years.

• Patient positioning is quick and easy on the flat top table. Its smooth surface means no grooves or ridges for clothes to snag or grime to collect.

• An integrated design provides continuous attachment of the tubestand to the table and requires no modification of office walls or ceilings.

• One feature enables a full range of off-table procedures including stand-knee and ankle. The complete system includes the Americomp Wallstand and your choice of high-performance generators.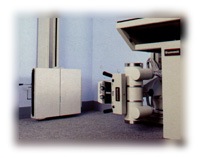 The unique off-table tubestand option makes stand-knee and ankle procedures possible on the AM3 system.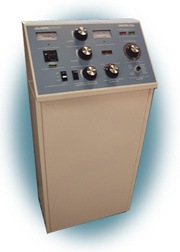 Every radiographic generator design starts with essentially the same objective: create x-rays efficiently and control their production. But how the design accomplishes this objective is what makes the difference. Americomp's approach to design is shown in the Spectra 325E.

The styling is clean and functional. The control panel is ergonomically engineered both for comfort and ease of operation. Features like SCR contactor, tube protection systems and a solid state digital timer contribute to your imaging quality and satisfaction. Throughout, a focused effort was made to provide safety for both patient and operator.

The entire design philosophy is aimed at providing you a unique combination of safety, reliability, quality and value. That is what sets the Spectra 325E apart when it comes to the challenging task of creating x-rays.

New paragraph

• Maximum Output is 300 mA at 125 kVp. The power of a hospital grade unit in a compact form ideal for a clinic or private practice.
• SCR Contactor with Back-Up Electromagnetic Safety Contactor opens and closes the tube power circuit at zero voltage, preventing tube damaging voltage spikes.
• Tube overload protection circuits alert the user if any technique setting (kV, mA and time) exceeds the tube rating, and prevents an exposure.
• Digital mAs reduces user reading error and improves setting accuracy and repeatability.
• 8 Step Line Compensator
• 5 mA Stations (50s, 100s, 150L, 200L, 300L), mA output is precisely controlled through automatic space charge compensation over the entire mA and kVp range.
• Digital Timer with 23 Stations (1/120 to 6 seconds) 14 time stations below 1/2 second easily accommodate the use of rare earth intensifying screens.
• kVp Range, 40 to 125 kVp, Adjustable in 2 kV Increments
• Two Bucky Selector Switch
• Vinyl Wear-Resistant Control Panel face cleans easily.
• Five-Year Limited Warranty
• Compatible with many A.E.C. Systems
• Complies with Federal Standards at time of shipment
• UL Classified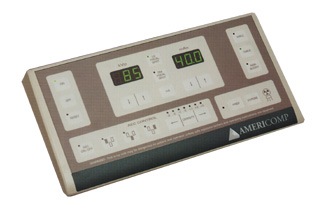 The SPECTRA 30HF incorporates the latest technology available today. From automatic line compensation that adjusts for variance in incoming line voltage, to tube protection, which prohibits exposures with excessive kVp and mAs. Safe, reliable and consistent performance of the SPECTRA 30HF generator is what you can expect.

The operator console is remarkably easy to use. The operator simply enters the kVp and mAs technique factors. The SPECTRA 30HF generator automatically selects the highest mA and shortest exposure time possible. The dual mAs/ma digital display provides the operator with the opportunity to view the mA the SPECTRA 30HF selected. Giving the operator total control, the mA can be modified when longer exposure times are desired.

The optional state-of-the-art Automatic Exposure Control (AEC) provides consistent film density, even when pathology is present. With up to three fields in the AEC chamber, the operator simply selects the field(s) under the anatomy of interest and enters the kVp. The SPECTRA 30HF will terminate the exposure at the exact mAs necessary to obtain a high quality film. After the exposure, the mAs value will be displayed for reference and documentation.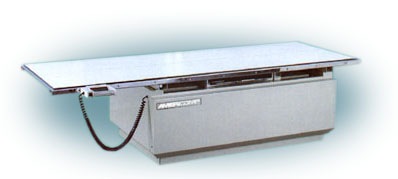 The A-4000 is a heavy duty, 4-way float top elevating table designed especially for the hospital, clinic or private office. This ruggedly designed compact modular system allows for easy handling of heavy case loads even in the smallest of rooms. Patient transferring is made easy with the hand operated table function control which mounts conveniently to the accessory rail. The flat, unseamed table top glides easily on precision ball bearings making patient positioning effortless. Made in the U.S.A., Americomp's 4-way float top elevating table assures quality craftsmanship with quick delivery and easy access to replacement parts.


• 30" W x 84" L Certified Float Top
• Variable Vertical Lift from 22 1/2"-34"
• 32" Longitudinal Travel, Plus or Minus 5" Transverse
• 51" Enclosed Table Base (at 22 1/2")
• +/- 16" longitudinal table top travel (from center)
• +/- 5" transverse table top travel (from center)
• Flat unseamed table top
• Foot Activated electric locks and table function controls
• 120 VAC
• Table weight 650 lbs.
• Rated patient load of 400 lbs.
• Low wattage electric locks
• Includes Grid Cabinet with Electric Lock, 20" travel
• 103L 8:1 aluminum grid also included
• Welded all steel construction
• Easy serviceability through removable front panels and slide out electrical panel
• Left or right handed user

OPTION: Reciprocating par-speed bucky - with 8:1 ratio, 85 line grid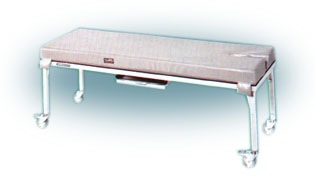 Built of welded all steel construction, Americomp's A-3100 and A-3199 x-ray tables are sleek yet sturdy enough to handle heavier patient loads. And with the optional drop leaf feature, these tables will accommodate even the smallest of x-ray rooms. Made in the U.S.A., all of Americomp's competitively priced tables carry a five-year defective parts warranty.

A-3100 LOW COST STATIONARY TABLE
• 24" wide certified table top
• Available in 56" or 76" length
• Includes PBL Grid Cabinet
• 30" leg length only
• Rated patient load of 300 lbs.

A-3199 MOBILE X-RAY AND EXAMINATION TABLE • 24" wide certified table top
• Available in 56" or 76" length
• Includes non-PBL Grid Cabinet
• 103 line, 8:1 aluminum grid also included
• 4" hospital-grade locking swivel casters
• Rated patient load of 300 lbs.
• Available in 20", 24" or 28" Table Heights OPTIONS • ATO-1 Drop Leaf
12" non-radiographic drop leaf. Specify right or left.

• AT0-2 Table Pad
Removable 4" high-density foam pad with facial slot.

• AT0-3 Reciprocating Bucky
Par speed, 14" x 17" with 85 line, 8:1 grid. Replaces grid cabinet and grid. Available only with A-3100 Stationary Table.

• A-1910 17" Manual Non-PBL Tray