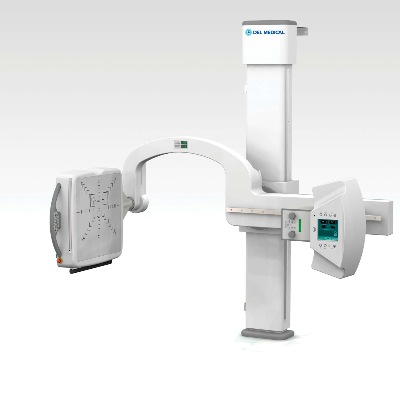 A world class direct digital imaging
system with positioning flexibility
and ease of use for all procedures.

Features
Del Medical UArm Systems are designed for use in hospital emergency rooms, orthopaedic and all general radiographic applications. The UArm maintains constant alignment between the x-ray tube and image receptor, regardless of tilt position or image receptor angle. The extraordinary flexibility of this system makes it ideal for all radiographic procedures including sitting, erect and recumbent positions.

Benefits
Key benefits of the Del Medical UArm Series include:

Detector-side control panel for operator convenience

Standard touch buttons located on the X-Ray tube cover

The intelligent, anti-collision system consists of two laser beams, a pressure sensor and a bumper detector, making patient positioning quick, easy and safe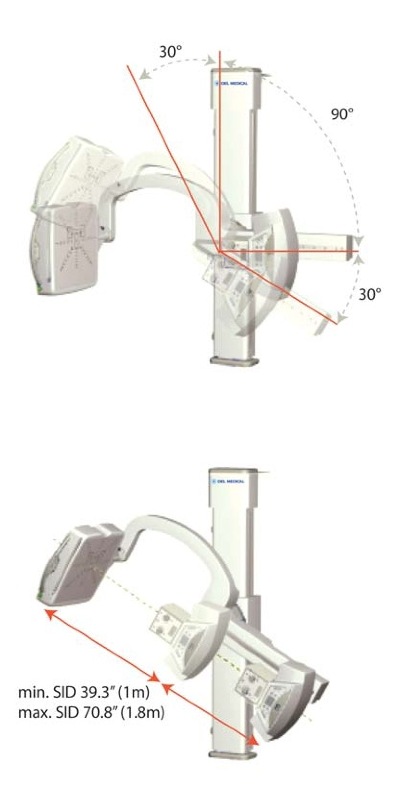 Dual speed motorized movement for: SID adjustment, Arm elevating movement and rotation of the arm
Vertical travel: 47.8" (1.215mm)
Rotation angle: 150° (90° +/- 30°)
Line voltage: 230; 240VAC (single phase)
PPG: Power consumption: 2,5 kVa
STD: Power consumption: 1,5 kVa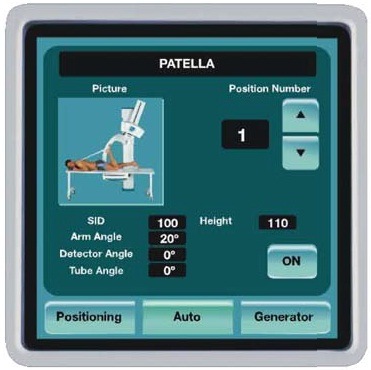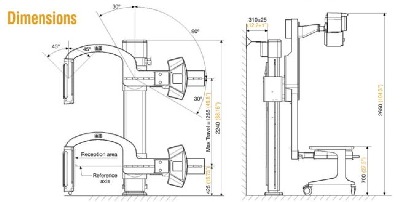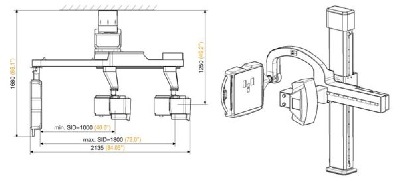 Specifications

U-Arm

 Dual speed motorized movement for:

SID adjustment, Arm elevating movement

and rotation of the arm

 Vertical travel: 47.8" (1.215mm)

 Rotation angle 150° (90° +/- 30°)

Power Requirements

 Line voltage: 230; 240VAC (single phase)

PPG: Power consumption: 2,5 kVa

STD: Power consumption: 1,5 kVa

Detector Cabinet

 Integrated control panel

 Reciprocating bucky, 103 lines/12:1 ratio,

f=59" (150cm) or

Grid cabinet with non-oscillating

interchangeable grids

a) 180 lines/12:1/f= 39.4" (100cm)

b) 180 lines/12:1/f= 70.9" (180cm)

Collimator

 Manual high luminosity power LED for

light field projection

X-ray Tube

• 300kHU, 150 kVp, 0.6x1.2mm

Weights & Dimensions

 U-arm: 714.3 lbs. (324 kg)

 Mobile Table: 101.4 lbs. (46 kg)

(LxWxH) 78.7"x25.6"x27.6"

(2,000 mm x 650 mm x 700 mm)

Generator

• Choose 50kW or 80kW output available in three

versions: line powered, battery powered or

capacitor assisted

Systems Options:

 400kHU, 0.6-1.2mm, X-ray tube

 Automatic collimator

 Mobile table with stratified laminated Table top

and 441 lb. (200 kg) patient capacity or carbon fiber table top