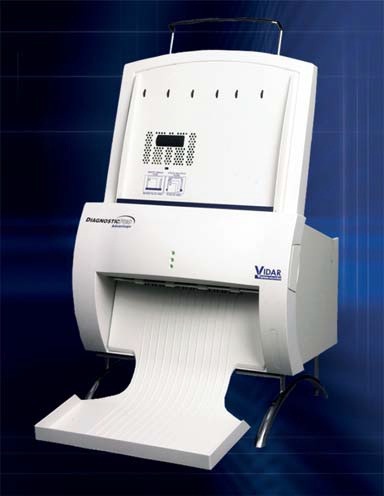 · Supports GAFCHROMIC EBT film dosimetry

· Improves productivity and consistency

· Ideal for use in QA and IMRT

· World-class reliability, service and support

VIDAR's DosimetryPRO® Advantage (Red) offers the radiation therapy market a specifically developed digitizer that meets the specific needs for those using popular standard film such as Carestream's Kodak EDR2 and film chemistry, as well as for those who use International Specialty Products' GAFCHROMIC EBT Film.

The DosimetryPRO Advantage for Film Dosimetry, QA and IMRT allows radiation physicists and oncologists to measure the consistency and precision of treatment beams they need for cancer therapy. The fast growing use of radiochromic film in Film Dosimetry, QA and IMRT has increased the need for an accurate medical-grade device that utilizes red-spectrum light. With the industry moving to eliminate film chemistry from modern cancer centers, VIDAR's state-of-the-art DosimetryPRO Advantage (Red) was designed to meet the exacting needs for using radiochromic film in beam analysis and related applications

Clinical Optical Density Range .00 to 4.0

Bit Depth 32-bit mapped to 16-bit (65,536), 12-bit (4,096), or 8-bit (255) Grayscale Output

MTBF >50,000 hours

Film Sizes Width: 8" to 14" (20 cm to 35.6 cm)

Length: 8" to 17" (20 cm to 43.2 cm)

Thickness: 0.006" to 0.008

Auto Film Feeder Standard 25-film capacity (mixed sized – no presorting necessary

"Light Box" loading: head-up, normal reading, left justified

Film sizes up to 14" x 17" (35.6 cm x 43.2 cm)

Translation Tables Standard look-up tables: linear, log, square root and power tables

Geometric Accuracy Better than 1% or 2 pixels, whichever is greater, in both axes

Scan Rate 200 lines/second

Hardware Interface USB 2.0

Software Windows® scanning modules and software development tools available

Power Requirements Voltage: 85~264 Vac

Frequency: 47~63 Hz

Power: <100 Watts

Operating Environment 50º to 95º F (10º to 35º C), 20% to 85% relative humidity, non-condensing

Storage Environment 0º to 140º F (-18º to 60º C), 20% to 85% relative humidity, non-condensing

Illuminator Red LED Illuminator; >500,000 scans

Detector Solid-state, next-generation High Definition CCD (HD-CCD®)

Dimensions With Feeder & Exit Tray: 19" W x 23" D x 29.25" H (483mm x 584mm x 743 mm)

Without Feeder & Exit Tray: 19" W x 14.25 D" x 16.5" H (483mm x 362mm x 419mm)

Shipping: 24" W x 29" L x 24" H (610mm x 737mm x 610mm)

Weight 45 lbs. (21 kg); shipping weight: 60 lbs. (27 kg)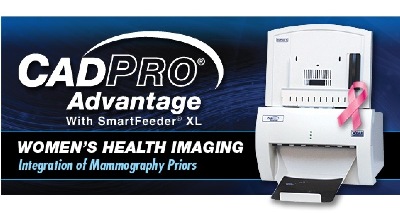 The VIDAR CAD PRO Advantage film digitizer was specifically designed and engineered for use in mammography CAD (computer-aided diagnosis) systems. CAD systems incorporate advanced pattern recognition and image analysis, requiring a film digitizer that meets the highest standards of image quality and reliability. By meeting these rigorous requirements, CAD PRO Advantage is an ideal fit for mammography facilities transitioning to digital technology. It provides the ability to quickly digitize prior studies and, when coupled with the appropriate software, uses the
DICOM MG standard to identify the specific mammography view contained on each film. See VIDAR's Whitepaper "Realizing the Benefits of Full-Field Digital Mammography; The Role of the Film Digitizer" for more information.

In order to read a new mammography study, radiologists and mammographers may require the two most recent prior studies. The ongoing transition to digital technology in mammography often requires radiologists to view both film-based priors and new digital images for the same returning patient read. The CAD PRO Advantage is able to bridge the gap in the transition to digital mammography – allowing for the digitization of film-based prior studies so that adiologists can view these priors, with their specific hanging protocols, on the mammography reading workstation. Radiologists and mammographers have limited time for reading studies, and the need to move from digital workstation to light box and back is cumbersome and time-consuming – creating a less-than-ideal clinical and diagnostic nvironment.

Clinical Optical Density Range .05 to 4.2

DMAX: 4.8

Bit Depth 32-bit mapped to 16-bit (65,536) or 12-bit (4,096) Grayscale Output

MTBF >50,000 hours

Film Sizes 18 cm x 24 cm, 24 cm x 30 cm, 8" x 10" and 10" x 12"

Thickness: 0.006" to 0.008"

Auto Film Feeder Continuous Loading SmartFeeder XL — Modular with 50-film capacity (mixed sized, no

presorting necessary)

Translation Table Linear OD

Geometric Accuracy Better than 1% or 2 pixels, whichever is greater, in both axes

Scan Rate 233 lines/second (160 films per hour, 18cm x 24cm)

Hardware Interface USB 2.0

Software Windows® scanning modules available

Power Requirements Voltage: 85~264 vac

Frequency: 47~63 Hz

Power: <100 watts

Operating Environment 50º to 95º F (10º to 35º C), 20% to 85% relative humidity non-condensing

Storage Environment 0º to 140º F (-18º to 60º C), 20% to 85% relative humidity non-condensing

Illuminator LED Illuminator, > 500,000 scans

Detector Solid-state, next-generation High Definition CCD (HD-CCD®)

Dimensions With Feeder & Exit Tray: 19" W x 21.25" D x 25.5" H (483 mm x 540 mm x 648 mm)

Without Feeder & Exit Tray: 19" W x 14.25D" x 12.75" H (483 mm x 362 mm x 324 mm)

Shipping: 24" W x 29" L x 24" H (610 mm x 737 mm x 610 mm)

Weight 47 lbs. (21 kg); shipping weight: 62 lbs (28 kg)

The award-winning SIERRA Advantage film digitizer allows for an affordable solution for teleradiology and low-volume digitizing. It overcomes some of the most common barriers to digitizer use — quality, cost, and size. It is the first film digitizer small enough to be easily wall-mounted, solving siting problems commonly found at hospitals and radiology offices. Featuring easy USB connectivity, an LED lighting system, and availability with a single or 10-sheet film feeder, the SIERRA Advantage allows you to increase report turn around time and reduce courier costs – all while utilizing the current PACS infrastructure. You can integrate outlying clinics for a fraction of the cost of low-end CR products.

The RoHS compliant SIERRA Advantage features VIDAR's next-generation prorprietary High Definition CCD (HD-CCD®) technology, and its unique ADC (Automatic Digitizer Calibration) feature results in virtually no variation in image quality and ensures excellent grayscale reproduction in every image.

Unlike other digitizers that require biannual calibration or cleaning, VIDAR digitizers need no maintenance or calibration, saving nearly $2,000 annually. The straight-line film path reduces the need for costly service calls ($500 or more each) due to film jams. Parts replacement, on-site service, shipping, and service costs for factory repairs can reach $4,500 annually for laser digitizers. An analysis of a three-year total cost of ownership demonstrates that the cost of owning a laser digitizer is significantly more than that of a SIERRA Advantage.



ClinicalExpress is designed for ease of operation and developed specifically for use with VIDAR's industry leading line of film digitizers — the CAD PRO® Advantage, DiagnosticPRO® Advantage, and SIERRA Advantage. This
software application complies with the Digital Imaging and Communications in Medicine (DICOM 3.0) standard to digitize prior films and send the images to the PACS archive, mammography reading workstation, or other DICOM
compliant workstations. The software is CE-MDD compliant and is available in modules to build a cost-effective solution for your specific needs. Choose from the Base Package for General Radiography or the Base Package for
Mammography – or combine the two. Add-on modules for Modality Worklist and/or Patient Data Interchange (PDI) are available to complete your solution.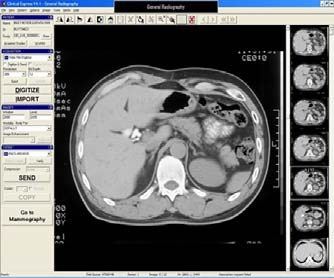 The base package for general radiography allows printing of digitized films for chemical-free film reproduction. It also includes the ability to separate MRI and CT films into single images in one series for viewing in cine mode at a reporting
workstation.Digitize general radiography films or CT/MRI images.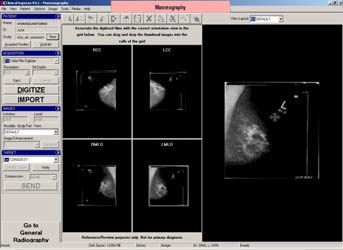 ClinicalExpress provides a dedicated user interface for digitizing mammography priors. A visual display allows the user to quickly see if the films are in the proper order for application of DICOM MG hanging protocols. Radiologists see the prior images along with the new digital study on the mammography reading workstation with their hanging protocol preferences applied. Most importantly, radiologists can focus on their task with fewer interruptions and without moving between two different reading technologies (a soft read workstation and a film view box). This has a negative impact on the visual system as well as the radiologist's concentration.


Less Time… Fewer Errors. The Modality Worklist option allows ClinicalExpress to query for patient demographics and study data from a DICOM Modality Worklist server, eliminating the need to retype patient study
information and minimizing the possibility of misplaced images.

Import/Export Other DICOM Media. The DICOM IHE/PDI option allows importing of DICOM data from portable CD media to send to PACS. You can connect a TWAIN-compliant paper scanner to combine paper reports or other
documents into the patient's file, providing the convenience of one software control while protecting your digitizer investment from the dust and debris associated with paper.

New in Version 5.0!

 Support for Windows 7 (both 32- and 64-bit operating systems)

 PDI option allows paper scanning in the mammography module

 Improvements for ease of use in creating and using patient CDs

System Specifications:

Computer

The minimum computer system:

For Windows XP Professional (32-bit) SP 3:

• 3.0 GHz Pentium 4 PC

• 1.0 GB of memory; more for large sets of high

resolution images

• 50 GB free space on hard drive

For Windows 7 Professional (32-bit/64-bit)

• Dual Core 2 – 1.8GHz PC

• 2 GB of memory; more for large sets of high

resolution images

• 50 GB free space on hard drive

Video

• Video card with 16 MB memory set to 1280 x 1024

resolution and 64,000 colors or higher color depth

• 17" display with 1280 x 1024 resolution

Film Digitizers

ClinicalExpress supports these VIDAR digitizers:

• DiagnosticPRO Advantage • SIERRA Advantage*

• CAD PRO Advantage

Modules – Buy only what you need

• Base Package for General Radiography (DICOM SC)

• Base Package for Mammography (DICOM MG)

• DICOM Modality Work List

• DICOM PDI: CD-ROM Media Import/Export and

paper scanning with separate paper scanner

Paper Scanners

Must be TWAIN compliant. Contact VIDAR for a

complete list of supported paper scanners

Common Features

• QA tools: window/level, rotate, flip, invert, and redact

sensitive information

• HIPAA compliance functions include auto logout,

locking function keys, patient data anonymization and

audit trail

• Thumbnails for quick access to images

• One-click image deletion

• Batch Scanning (if supported by the digitizer)

• DICOM JPEG lossless image compression

Base Package for General Radiography

• DICOM (SC) Storage Class User

• DICOM Print

• Separate MRI and CT films into single images in one

series for viewing in cine mode at reporting

workstation

• Anatomical processing

• Digitize & send or digitize & print (Copy) – one click

Base Package for Mammography

• DICOM (MG) Storage Class User

• Visual QA of image order before application of

hanging protocols

• Drag and drop to rearrange image order

Note: In accordance with FDA regulations and ACR guidelines,

Mammography images digitized using ClinicalExpress are to be

used for Reference/Review only, not primary diagnosis.

ClinicalExpress is not diagnostic viewing software.

* SIERRA Advantage does not support 570 dpi image resolution

and is therefore not appropriate for mammography.