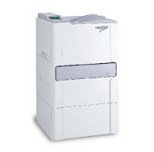 As the world of digital image diagnostics continues to
evolve, the challenge to provide superior quality diagnostic
images, exceptional operating comfort, and superior
versatility has been met, with the Konica Minolta DRYPRO
771. The DRYPRO 771 offers decentralized imaging with
a minimal footprint and the highest performance standards
for outpatient and office imaging.

Konica Minolta technology and expertise created DRYPRO
771, which is a supremely flexible, high-performance, compact
dry network imager that realizes the full potential of
dry laser imaging innovation. The DRYPRO 771 upholds a
higher new standard in the diversifying IT environment.


Printlink II print management system can convert image
signal output from various non-DICOM modalities to
image data that complies with the worldwide DICOM
standard. Up to 8 units of DICOM-compatible print or
1 unit storage device can be connected to our Printlink
II as output destinations, making backup system
set-up easy.
"Auto Character Recognition Function" captures
patient data such as name, ID, etc. from non-DICOM
images, and transfers it to DICOM servers and viewers
in the DICOM (Storage Service Class) form.
User-friendly operator control panel. Film supply tray supports 11"x 14",
14"x


• The DRYPRO 771 uses a front
mounted, one-channel tray
and allows processing in a
brightly lit room.
• Film size is selectable for added
flexibility.
• DRYPRO 771 is used for all
modalities as well as CR,
enhancing functionality within
the department.
• Easy to reach, user-friendly control
panel indicates operating
status for operational flexibility.
• Timer function starts operation
at a user-specified time.
• High-speed processing of up
to 110 films/hour and energysaving
design offer optimum
performance and versatility.
• First image is processed as
quickly as 106 seconds for
14x17 inch film.
• Supply tray shutter prevents
accidental film exposure,
reducing your cost of operation
on supplies.



• The DRYPRO 771 supports
Presentation LUT Service
Class (standard), making it
easy to obtain density scales
that are equivalent to those on
the modality console display.
• DICOM PRINT function's
Requested Image Size provides
for an actual-size image,
regardless of modalities, providing
the best sized image for
diagnostic review.
• Supports DICOM verification.
• Auto density control function
maintains the output density by
automatically measuring the
density patch of a fixed exposure
on each film.




Laser Source Semiconductor laser
Film Size 14" x 17", 14" x 14", and 11" x 14" (Selectable)
Film Type Konica Minolta Medical Imaging Film SD-P/SD-PC
Image Format 1, 2, 4, 6, 8, 9, 12, 15, 16, 20, 24, 25, 30, 35, 36, 42, 48, 54,56, 60, 63, 64
Image Memory Hard disk (standard 80GB)
Print memory (standard 128MB)
Inputs Maximum 4 DICOM Channels
Pixel Size 78.6μm
Image Data Input 8 bits / 12 bits
Output Gradation 16384 levels (14 bits)
Processing Capability Approx. 110 sheets (14" x 17") / hour
Input Interface Ethernet 10 base-T / 100 base-TX
DICOM Services DICOM Print Management, GSDF
Supply 1 channel
Border Processing Black / White
Trimmed Frame Available
Calibration Internal; Automatic
Density Correction Built-in, Automatic
Positive / Negative Available
Operating Environment Temperature: 59 – 86°F Humidity: 30% – 70 %
Power Source 120V AC / 1020 VA
Heat Generation Approx. 950KJ/hour
Dimensions 24.8"(W) x 23.6"(D) x 44.2"(H)
Weight 385 lbs.
Accessories Power cable, Operation Manual, Cutter (for film loading)
Comparison of density resolution 16384 levels, 14 bits;
4096 levels, 12 bits
Pixel Interpolation Replication/Bi-linear/Cubic Spline

*Specifications above are subject to change without notice.