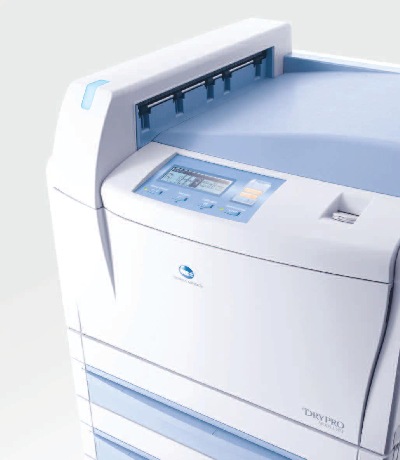 The DRYPRO 873 is the newest dry laser imager from Konica Minolta. The DRYPRO 873 incorporates faster, quieter throughput for use in mid to high volume, multi-modality use, including full filed digital mammography. The DRYPRO 873 laser imager is expected to be the top performer in imaging capacity and diagnostic image quality.

Features: A compact Dry Laser Imager with 90 films per hour, four film sizes (choice of: 14x17, 11x14, 10x12, 8x10), 14-bit grayscale output, 50 seconds first print time, up to three film trays, maximum 16 DICOM connections. 125 sheet film capacity.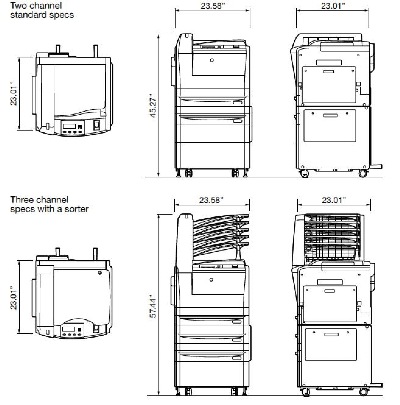 Laser Source: Semiconductor laser

Film Size: Selectable from 14 x 17", 11 x 14", 10 x 12", 8 x 10"

Films To Be Used: Dry image recording films, SD-Q / SD-QC / SD-QM

Image Format: 1, 2, 4, 6, 8, 9, 12, 15, 16, 20, 24, 25, 30, 35, 36, 42, 48, 54, 56, 60, 63, 64

Image Memory: Compact flash (standard 128 MB)
Main memory (256 MB)
Print memory (256 MB)

Input Port: Maximum 16 ports

Matrix (14 x 17"): REGIUS connection: 8079 x 9725 pixels (at 43.75µm)
Connection other than the REGIUS: 7730 x 9260 pixels (at 43.75µm)

Matrix Size: 78.6µm / 43.75µm

Image Data Input: 8-bit, 12-bit

Output Grades: 16384 grades (14-bit)

Image Mode: Pixel replication / function interpolation
(with intensity conversion process function)

Processing Capacity: 180 sheets / hour (mixed sizes / at ordinary modality)

Input Interface: Ethernet 1000base-T

DICOM Support: DICOM Print Management Service Class, Presentation LUT Service Class … .
(For details, refer to DICOM conformance statement)

Supply: Two channels standard, maximum of three channels (option)

Standby function: Transfers to energy-saving mode after pre-set time for none-printing
Boot time from the energy-saving mode is less than three minutes.

Border processing: Black / white

Image Trimming Frame: Possible

Density Correction Function: Built in the body

Negative / Positive: Available

Noise Level: Less than 53 db when printing / less than 46 db in standby

Footprint: Less than 2' x 2'

Operating Conditions: Temperature: 59°F to 86°F (15°C to 30°C)
Humidity: 30% to 70% RH (no condensation)

Power: UL: AC 120V ±10%; 60 Hz ±1Hz; 10A
CE: AC 220–240V ±10%; 50/60 Hz ±1Hz; 6A

Dimensions: 23.58"(W) x 23.01"(D) x 45.27"(H)

Weight: Approximately 335 lbs. (152 kg)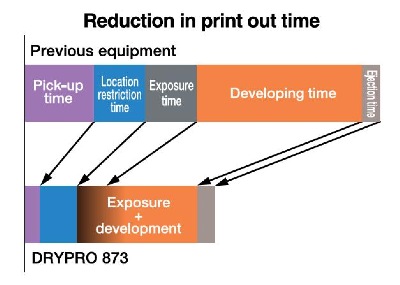 Advanced Technology

Fast Printing… Fast Heat
Developing Process
With the DRYPRO 873, the developing process
has been redesigned for fast mass volume processing.
The film is pre-heated from the early
stage of film transfer. In addition to reducing
unstable temperature areas, fast mass volume
processing and density stability have been
achieved by dividing the heat developing part
into five parts and closely controlling the
process. Ten sheets of 14"x17"-size film can
be printed within four minutes.

Eco Friendly: Designed for 30%
Energy Saving
The DRYPRO 873 uses heat processing in the
imaging step. In the normal printing operation,
we engineered a 30% reduction in electricity
consumption compared with previous types*.

It's Small… It's Fast– The Shortest
Film Pass Structure
To achieve a compact body and fast volume
processing, the hardware for the DRYPRO 873
has been redesigned. The use of a feed roller
in the film supply unit and the adoption of the
plate-method heating unit, have contributed
to creating the shortest film pass structure.
Speed and compactness are achieved.

Rapid Cooling Process
To increase the printing
speed, a new control has
been added to the cooling
process that comes at the
end of printing. To rapidly
cool films after image formation,
a film temperature
history control system
controls both heating and cooling. By accurately
halting heat development and greatly
increasing the cooling speed and time,
stable quality images can be quickly obtained.
In addition to the speed, the increased cooling
speed has enabled the drastic downsizing
of the unit, contributing to the compact
body size.