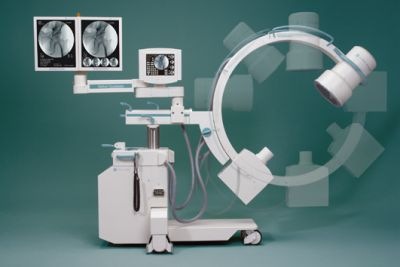 By eliminating the need for a monitor cart in the surgical suite, the Ziehm Quantum™ is truly the world's first full featured, self contained mobile surgical C-arm. Its compact foot print and lightweight design coupled with the advanced features of a state-of-the-art 16-bit image processing system, makes the Ziehm Quantum™ the most compact and versatile mobile C-arm available today.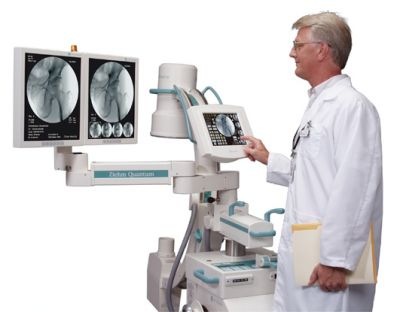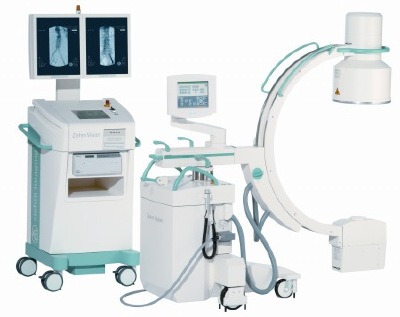 Ziehm Vision² creates a new standard in mobile C-arm functionality including highly demanding minimally invasive and interventional procedures performed in areas such as urology, neurosurgery and orthopedics.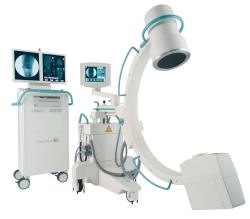 Ziehm Vision R offers high power capabilities for demanding interventional procedures such as those performed in vascular surgery (i.e. AAA, PTCA) and in cardiology (i.e. coronary angioplasties).

The powerful, ultra compact monoblock generator with rotating anode provides superb image quality and low dose capabilities.

Surgeons, Staff and patients will benefit from the C-arm's compact design and its excellent maneuverability.



Pulse technology – Up to 30 frames/s with the most compact monoblock generator for best patient access and clearest image quality.
1k x 1k HD CCD camera system – Industry-leading, high dynamic CCD camera clearly visualizes even the tiniest anatomical structures.

18'' high brightness monochrome TFT monitors – twin 18'' TFT monitors with Intelliguard provide powerful diagnostic performance.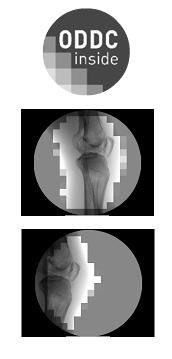 Object Detected Dose Control (ODDC)

Ziehm Vision R provides superb image quality with object detection at the lowest possible dose. ODDC stands for:

Excellent real-time image control over 2 x 256 measurement cells covering the entire field of view

Optimum histogram in each cell to control dose and video signal for independent object positioning

Real-time motion detection

Automatic adjustment of noise reduction level

Automatic adjustment of pulse frequency if the object does not move

Significant dose savings in clinical performance

Automatic Metal Correction AMC without manual adjustments or flaring



Employing cutting-edge technologies, Ziehm Vision R can provide optimal image quality at the lowest possible dose. Besides features like ODDC, application-oriented anatomical programs, a monoblock generator with pulse technology and beam hardening filters, many other sophisticated functions of the Ziehm Vision R contribute to additional significant dose savings.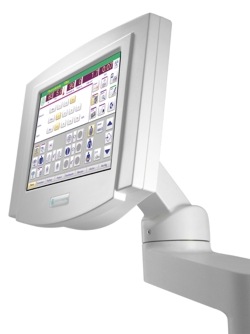 Synchronized TFT touch-screens conveniently mounted on both C-arm and monitor cart make it possible to fully control the system from both locations.

Logical user menus with clear and straightforward icons make the system simple to operate and streamline workflow.

Application-oriented programs optimally adjust the system's performance to the anatomic region of interest.

A touchscreen control panel with an open architecture design simplifies future upgrades and product improvements.



Developed to allow for prolonged fluoroscopy times in highly demanding imaging procedures such as vascular surgery, electro-physiology and endoscopic applications
Heat management over a closed-loop circuit and heat exchanger integrated invisibly within the tube housing
Nearly 3 times the cooling capacity compared to conventional C-arms
Unlike systems using less efficient cooling fans, the Ziehm Vision2 FD remains totally unaffected by the use of sterile plastic covers placed over the tube he
In combination with pulsed fluoro enables continuous power in clinical performance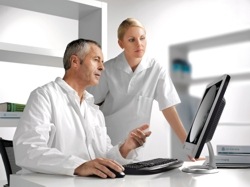 Ziehm NetPort – Providing the Latest Medical Information Technology

An outstanding feature of the Ziehm Vision R is the fully integrated Ziehm NetPort based on DICOM 3.0 communication protocols, including a WLAN option.

Running in Primary Capture mode, Ziehm NetPort is capable of transferring original images and patient data to and from the PACS or HIS/RIS, providing you with a completely integrated digital network solution.



Ziehm Vision R provides a wide range of integrated archiving devices for image storage such as:

Hard disk
USB port
DVD writer
Images can be saved in DICOM or TIF format as well as in downsized DICOM or JPG format.



The combination of the Ziehm Vision with a CAS system creates a surgical environment with excellent image guidance, allowing the surgeon to operate with optimum precision and accuracy.


Ziehm Vision R offers several application-oriented software packages with special features targeted for different procedures to best meet your clinical needs.

Hence each Vision R-unit can be easily and quickly adapted to any procedure performed in areas such as orthopedics/traumatology, vascular surgery and interventional radiology and cardiological interventions.