HF-110A Portable X-Ray System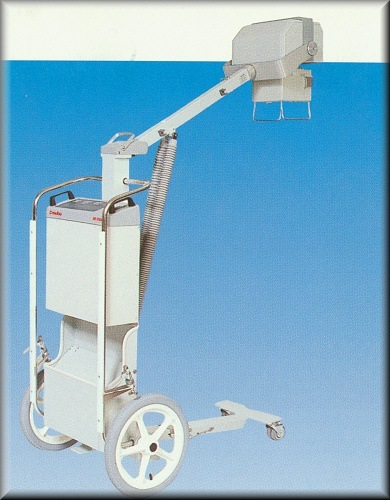 Electrical Specifications

Generator Type: High frequency inverter, 2.5 kilowatt output.

kVp Range: 50-100 kVp continuously adjustable,with 1 kVp resolution
.
mA Range: Fixed, 15 mA and 25 mA, constant independent of kVp or time settings.

Exposure Time: 0.01 to 4.0 seconds in 96 increments.

Indicators: Ready, x-ray on, mA selected, and digital displays of kVp, mAs and time.

Exposure Switch: Detachable hand switch, two position, prep and expose.

X-Ray Tube: Stationary anode, 100 kVp.

Filtration: 2.7 mm of aluminum at 100 kVp (min.).

Target Material: Tungsten.

Anode Capacity: 30,000 heat storage capacity.

Focal Spot: 1.0 mm (NEMA).

Beam Angle: 12.5°

Collimator: C ol l i mar e® CP-100-24-C Certified manual.

Lamp Source: 30 second timer.

Tape Measure: For SID distance.

Inclinometer: For angle measurement.

Electrical Requirements: 110-125 VAC, 50 Hz. or 60 Hz, or 220-250
VAC, 50 Hz. or 60 Hz.

Mechanical Specifications:
Maximum Focal Spot to Floor: 78. (198 cm)
Minimum Focal Spot to Floor: 15. (38 cm)
Horizontal Extension of Focal Spot: 21. (53 cm)
Rotation About Horizontal Axis: 360°
Rotation About Tube Axis: 270°





































System Dimensions: Horizontal storage position *with front leg folded
27 W, 52 L, 28 H (66 x 135 x 71 cm).
Vertical storage position
52 H, 27 W, 28 L (135 x 66 x 71 cm).

System Weight: Total System Net Weight
150 lbs. (68.2 kg)

Component Weight:
HF-110A-C Control Cabinet 32 lbs. (14.5 kg)
HF-110A-G X-ray generator 50 lbs. (22.7 kg)
HF-110A - S Mobile stand 58 lbs. (26.4 kg)
HF-110A-D Cassette bin 10 lbs. (4.5 kg)

Phantom Portable X-Ray System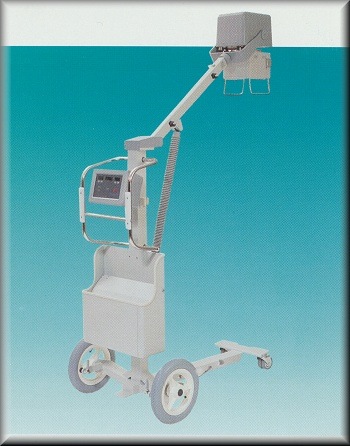 Generator Type: High frequency inverter, 1.25 kilowatt output.

kVp Range: 50-100 kVp continuously adjustable, with 1 kVp resolution.

mA Range: Fixed, 12.5 mA, constant independent of kVp or time settings.

Exposure Time: 0.01 to 4.0 seconds in 96 increments.

Indicators: Ready, x-ray on, digital display of kVp, mAs and time.

Exposure Switch: Detachable hand switch, two position, prep and expose.

X-Ray Tube: Stationary anode, 100 kVp.

Filtration: 2.7 mm of aluminum at 100 kVp(min.).

Target Material: Tungsten.

Anode Capacity: 25,000 heat storage capacity.

Focal Spot: 1.0 mm (NEMA).

Beam Angle: 15°

Collimator: C ol l i mar e® CP-100-24-C Certified manual.

Lamp Source: 30 second timer.

Tape Measure: For SID distance.

Inclinometer: For angle measurement.

Electrical Requirements: 115 VAC, 50 Hz. or 60 Hz., or 230 VAC, 50
Hz. or 60 Hz.

Mechanical Specifications:
Maximum Focal Spot to Floor: 78 . (198 cm)
Minimum Focal spot to Floor: 15. (38 cm)
Horizontal Extension of Focal Spot: 21. (53 cm)
Rotation About Horizontal Axis: 360°
Rotation About Tube Axis: 270°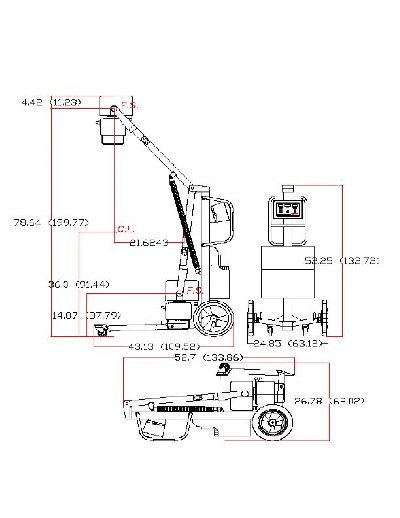 New paragraph

System Dimensions:*with front leg folded
Horizontal storage position
25.W, 52.L, 27.H (64 x 132 x 69 cm).
Vertical storage position
52.H, 25.W, 27.L (132 x 64 x 69 cm).

System Weight: Total System Net Weight
95 lbs. (43.2 kg)

Component Weight: PH-150-C Control Cabinet
7 lbs. (3.2 kg)
PH-150-G X-ray generator
39 lbs. (17.7 kg)
PH - 150 -S Mobile stand
40 lbs. (18.2 kg)
PH-150 -D Cassette bin
9 lbs. (4.1 kg)


The DynaRad HF-110A and Phantom portable units are being used world-wide in diverse settings such as home health care, rural hospitals, Pediatrics wards, private practices, sports facilities, correctional facilities, cruise ships, ski lodges, military applications and morgues in the United States and World Wide.

Mobile users world-wide are learning that long-term returns on investment,
minimum operator training levels and fast response time are valuable assets
inherent in the DynaRad portable units.

When portability, performance and cost are important, DynaRad HF-110A
and Phantom portables are the answer. DynaRad portables are the first choice
for delivering cost effective, high quality images in a portable atmosphere
DynaRad is a leading manufacturer of cost-effective portable imaging systems
for use by home health care providers, hospitals and private practitioners
worldwide. Products are manufactured in the United States of America and
sold under the DynaRad name.

Meeting the challenges that transcend the most demanding mobile radiology programs found in the U.S. and overseas required more than the lightweight construction and limited support stands typically offered in portable units.

DynaRad/Del Medical Systems Group took on the challenge to design a robust frame construction to withstand heavy use. The units fold into a small, self contained package that can be set-up easily. The ability to fold the unit is extremely important to meet the need to reach non-ambulatory challenged patients out of the hospital environment.

The user-friendly control allows the operator to obtain diagnostic images under primitive conditions.

The HF-110A and Phantom portables are easily maneuverable around beds and other obstacles. The design criteria for the DynaRad portables called for extensive, effortless movement of the tube-arm to ease positioning in situations with limited
space.