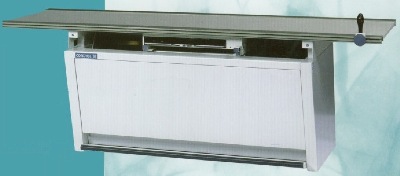 The Stylix radiographic table enhances the versatility of any x-ray department with its compact space saving design. Combining a large table top with extended travel enables full radiographic coverage with minimal patient movement. The four way floating tabletop glides on a precision bearing system while electromagnetic locks secure the patient for quick and accurate positioning. Durable and easy to use this table is suited for all environments from the hospital to the private practice.

Features

Low absorption tabletop material reducing patient exposure

Large, easy to clean tabletop supports up to 300 lb. patient load

Extended tabletop travel provides access for wheelchair patients and C-arm procedures

Precision bearing system for effortless patient positioning

Electromagnetic locking system controlled by a two-step convenient foot treadle

Extended Bucky travel covering the entire length of the table base

Stainless side rails support a wide variety of tabletop accessories

Compatible with floor or ceiling mounted radiographic tube stands

Optional accessories include: patient handgrips, lateral cassette holder, compression device, head support, hip support.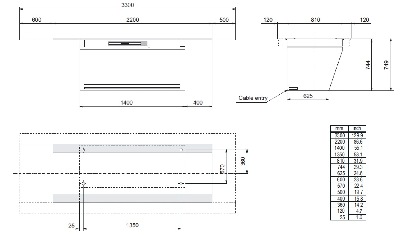 Specifications

Tabletop Travel - Longitudinal: 43" (1100 mm)

Tabletop Travel - Horizontal: +/- 4.7" (+/- 120 mm)

Tabletop Movement: 4-way floating

Tabletop Length: 86" (2200 mm)

Tabletop Width: 32" (810 mm)

Bucky Travel: 22.5" (572 mm)

Tabletop Absorption Density: 0.6 mm Al equivalent

Power Requirements: 110/220V AC, 50/60 Hz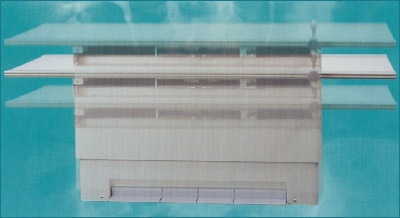 The Phoenix Table provides exceptional versatility for a wide range of x-ray procedures. Its compact, space saving design enables it to be mounted in small x-ray rooms. A convenient range of table height adjustment (21.5" to 34") allows easy access to the table even for disabled patients. It is ideal for transferring patients from a trauma stretcher or wheel chair onto the table. Precision mechanics with high quality components assure quiet and smooth travel of the table.

Features· A convenient foot pedal system provides maximum flexibility for the technologist to achieve accurate patient positioning.

· The large easy to clean tabletop supports up to 500 pounds while its precision bearing system provides effortless patient positioning. Combined with the extended Bucky travel, Phoenix allows for full coverage of the entire length of the table base.

· The electromagnetic locking system and elevating feature, controlled by the conveniently located foot pedals, controls all table movements for accurate exposure positioning.

· The extended tabletop travel provides access for wheelchair patients and use of C-Arms. In addition to its compatibility with floor and ceiling mounted tube supports, Phoenix is compatible with most radiographic systems.

· The low tabletop absorption material reduces patient exposure while the small skin-film distance permits precise low magnification film studies. Stainless steel side rails support a wide variety of accessories.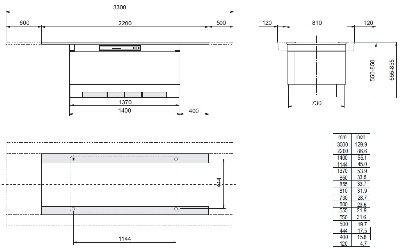 Specifications:

Tabletop Travel - Vertical: 12", from 21.5" to 34"(300 mm, from 550 mm to 850 mm)

Tabletop Travel - Longitudinal: 43" (1100 mm) Tabletop Travel - Horizontal +/- 4.7" (+/- 120 mm)

Tabletop Movement: 4-way floating with electromagnetic locks

Tabletop Length: 88" (2200 mm), optional 73" (1850 mm)

Tabletop Width: 32" (810 mm)

Table height: adjustable from 21.5" to 34"
(550 mm to 850 mm)

Table base: 55" x 28.75" (1400 mm x 730 mm)

Bucky Travel: 22" (555 mm)

Tabletop Absorption Density: 0.6 mm Al equivalent

Power Requirements: 230V AC (50/60 Hz)
optional 117 VAC (50/60 Hz)