ZooMax White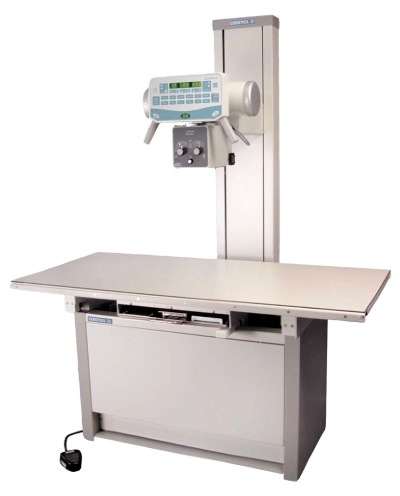 Integrated 4-Way System

The ZooMax veterinary radiographic systems are an excellent choice for veterinary hospitals and clinics. A variety of product options will definitely cover the diverse demands of veterinary x-ray suites. The integrated systems with fixed or four-way float top tables offer the most cost effective solutions for an easy, effortless and hygienic procedure both for practitioners and patients in a clinical environment.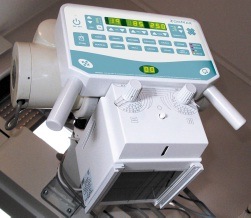 The new ZooMaX Control with the CX-MC 150 collimator.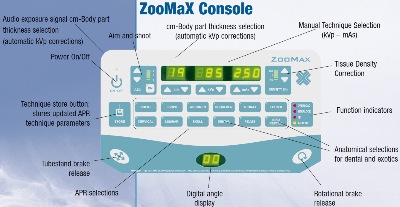 High Frequency Anatomical Programmed Generator Console

Features:

• The latest in state of the art technological design

• Easy to use with basic knowledge of radiology

• Anatomical or manual two-factor (kVp–mAs) mode operation

• 20 or 30 kW output

• Low power requirements – no additional transformer needed

• Patient tissue density correction

• Auto-calibrating program – no special test equipment required

• Self diagnostics – easy to service with low maintenance

• Future field upgrades include: power increase (AEC)
and digital filmless equipment

• Conveniently upgrades existing systems

• All controls are located in the "work area" – convenience in positioning the
patient, adjusting parameters and taking exposures at one location

• Wall mounted, self-contained compact designed generator – no floor
obstructions – easy access to full work area

ZooMaxWHITE Integrated System Specifications:

VSTX 60 Radiographic table,4-W ay top

Table top: 60" x 28" (1524 x 711 mm), with side rails 60" x 30" (1524 x 762 mm)

Height: 29-1/2" (750 mm)

Footprint (base): 40" x 22" (1000 x 550 mm)

Table top travel: cross-table +/- 4" (102 mm), longitudinal +/- 14" (350 mm)

VTS 02 Tube Stand

Longitudinal travel: 39-1/2" (1000 mm)

Vertical travel: 28-1/2" (720 mm) (optional 60", 152 cm)

Tube rotation: +/- 90°

The integrated ZooMax White system is 41" (1040 mm) deep when installed as close as possible to the back wall (table top in center position)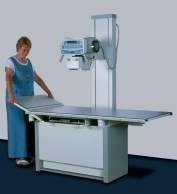 ZooMaxWHITE System incorporates a four way floattop table and an integrated tube stand,which offers the flexibility of vertical and longitudinal travel. This allows for very easy and effortless patient positioning. Even large animals can be conveniently positioned for optimal exposures.

A table-length foot operating brake release switch provides free table top motion allowing for "Hands Free" operation and placement of the patient before and during the examination.

Tabletop side rails provide durable anchors for restraining, which allows for the proper placement and subduing of the patient during the procedure.

Optional table extension provides an additional 12" working area when larger animals are examined.

The x-ray tube freely rotates ±90º around the horizontal axis, allowing exposures from various angles. The ZooMaxtubestand and tableradiographic systemThe ZooMaxtubestand and tableradiographic system.